Who Do You Think Will Win The Halo 2019 Pride Championship ?
Message reputation : 100% (17 votes)
2019 Pride Halo 5 FFA and 1v1 Championship
(Pre-Requisite: Members in the Championship Stages need to have progressed past the group stages and all participants need have qualified to enterthe initial tournament rounds, this qualification needs to be verified by an admin.)
Group Stages Start: March 17th Sunday 5:30PM (AEDT), 2019
Bracket List for the GROUP STAGES of the Pride Championships:
https://challonge.com/H5Pride2019/groups
Final Championship Stages Start: April 4th Thursday 8:30PM (AEDT), 2019-----------------------------------------------------------------------------------------
Bracket List for the FINAL STAGES of the Pride Championships:
https://challonge.com/H5Pride2019
Introduction:
Greetings ladies and gentlemen, I would like to start things off by saying we (the frequency team) are pleased and thrilled to bring back the
Pride Halo Championships after 5 years. This will be the FINAL Pride tournament to be ever hosted so with that comes a lot of interest.
Old legends from the halo community as a whole will be coming back, players such as: Sypher, Septum Z, Fiaresu, Optimus, Derezzed, Fist, Zyrex.
Now many new people may not know the significance of this tournament and so here it is in  a nutshell. Unlike the other tournaments where the prize is;
Money and Ranking points, the Pride tournament is purely on....well you guessed it "Pride".
The winner of this tournament gets inducted into the communities:


Hall Of Fame

The Title of he best Halo 5 Player for 2019 in the FHC and BKT

Prize Money of $10,000 for the FFA Pride Championship and $5,000 for 1v1 Lone Wolf Pride Championship (WINNER TAKES ALL)

Gets an option to Co-Lead the community along side the admin team with free Tournament Entrance for any competitive event in the future all of which will be funded by FreQ AvaiL and FreQ Blacknight.

Oh and again did I mention bragging rights!!  Wink Wink 

Now this tournament will be a (Singles based championship)  this means there will be 2 different tournaments 2 gametypes, this will be be
Free-For-All and 1v1 based tournaments. Now the FFA Tournament has a Prize Money of $10,000 and the 1v1 Lonewolf Tournament has a
Prize Money of $5,000. Generally Pride Tournaments dont have ANY Monetary prize but for this year we made it an exception as it will be the
last pride tournament ever to be hosted.
The tournament format will be a mix of Bracket Based Standings (1v1 Championship) and Aggregrated Point Based Standings (FFA Championship)
Tournament Details:
Format: 
Free-For-All Slayer (First to 25 kills, 6 players per lobby, 15 Minutes)
1v1 Lone Wolf Slayer (First to 15 kills and 12 Minute Game Duration)
Final Stage Tournament Map List:
Refuge HCS, Veil Pride HCS, Regret HCS, Plaza HCS, Eden HCS, Fathom HCS and The Rig Pride (Winter HCS Variant) 
Pride Free-For-All Championship Placing:
Below is the updated placings for the Pride Free-For-All Final Stage Placing:
| | | |
| --- | --- | --- |
|  POS  |                      Player                          |               Aggregated-Points               |
 1.)   
                 FreQ AvaiL                       
                        2400                           
 2.)
                 Thy Zyrex
                        2396
 3.)
               Xone Optimus
                        2224
 4.)
                 Thy Lycan
                        2220
 5.)
               Kara Wrecks
                        1806
 6.)
                 Paris West
                        1802
 7.)
               June Ishii Mia
                        1800
 8.)
           Enable "Joshua" Pain
                        1670
 9.)
              Ricardo.Harerra
                        1601
10.)
                PrZ Shadow
                        1600
11.)
               Neko Yoshida
                        1540
12.)
             Neko Shirochan
                        1500
13.)
                Dean Zach
                        1280
14.)
                   Xeaus
                        1240
15.)
             Demoralize PGL
                         

808
Pride Lone-Wolf (1v1) Championship Placing:
Below is the updated scorecard of the 1v1 Grandfinals (FreQ Invictus / FreQ Medusa):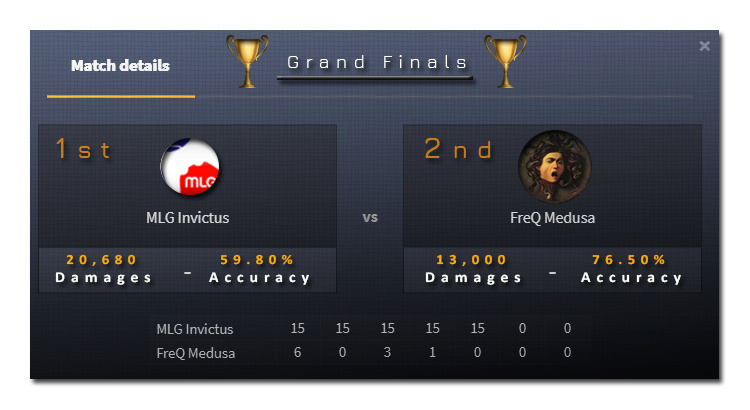 Some Ground Rules:
1.) Only follow directions regarding your matches from the 2 main admins on match day, which is Myself (Dean Zach / Xone Fazed), June Ishii Mia and Yoku, if you do
    have any issues with either one of the main admins on match day feel free to report them to the community coordinator
@Jestics
2.) Only start the game once the admin tells you to start, do not open any messages from anyone in the middle of the game UNLESS its from an ADMIN.
3.) ALL WEAPONS ARE ALLOWED EXCEPT Plasma pistol, Boltshot, Needler or any AUTOMATIC WEAPON
     -Primary Weapon: Pistol (H5 Default)
     -Secondary Weapon: Halo 2 Battle Rifle
5.) No Radar, when participants progress to Round 3 and ONWARD, Radar is then Re-activated for Quarter, Semi and Gran Final Stages.
Tournament Violations:
Tea-Bagging : 1st Offense - 1 Point Deduction out of a 15 kill game
Tea-Bagging : 2nd Offense - 4 Point Deduction out of a 15 kill game
Tea-Bagging: 3rd Offense -  Game Disqualification
Insulting Messages or RQ :  Game Disqualification
Game Timidity Violation : Match Disqualification
Camping: Penalty for camping generally ends up being in a game replay or game disqualification, in SEVERE cases it can result in a MATCH DISQUALIFICATION. 
 (Will be determined on a case by case basis but basic rule of thumb is NOT to hug or be stationery near any corner location of the map for more 30 seconds, other wise this is regarded as camping)
Last edited by June Ishii Mia on Sun Apr 21, 2019 9:43 pm; edited 4 times in total (Reason for editing : Updated FFA-Calendar Event)
Permissions in this forum:
You
cannot
reply to topics in this forum